Our Homes
Holly Tuft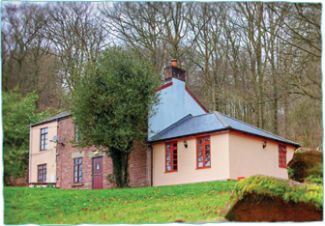 Holly Tuft is an Ofsted registered, beautifully restored miners' cottage in the heart of the Forest of Dean. It provides home for up to four clients. They each have a single-occupancy bedroom that they can have decorated to their own liking and are encouraged to personalise.
Both staff and clients have fond memories of Holly Tuft, which we've been running as a residential home for young people since 2001. Two years ago we had the property renovated and refurbished. It has been decorated to a high standard and equipped with modern facilities. It is reached via a single-track forestry road and set amongst forest plantations.
The surrounding wide, open spaces allow young people to explore and develop in privacy.
Local amenities are only a short walk or drive away. Residents are encouraged to take advantage of these facilities and become involved with the local community.
Woodland View
Woodland View is a CIW registered former farmhouse, located in the beautiful Monmouthshire countryside. The original farmhouse has been renovated and extended to a very high standard and is situated in 4 acres of land.
The home offers accommodation for up to four young people, all of whom have a single occupancy room with panoramic views over the surrounding countryside. Young people are encouraged to personalise their rooms and are supported in doing this.
Woodland View provides a homely, stable and well-structured environment with a consistent and caring staff group.
Local amenities are a short drive away from the home and residents are encouraged to regularly make use of these amenities and involve themselves in the local community.
The Squirrels
The Squirrels is is an Ofsted registered, traditional cottage located in the Forest of Dean. It provides a stable, safe, homely environment for young people and can cater for up to five clients. Each has a large single-occupancy bedroom that is furnished to a high standard, one of which situated on the ground floor provides short-break accommodation for clients with disabilities.
The young clients are encouraged to choose their own decoration and personalise their rooms.
The Squirrels has large gardens and backs directly onto the Forest of Dean. The rural setting creates a relaxed atmosphere that provides young people with the room to mature and develop. Young people from urban backgrounds often particularly appreciate this.
The décor is contemporary and the property is equipped with all modern facilities. Local amenities are only a short distance from the home. Residents are encouraged to utilise these facilities and involve themselves in the local community.